STINKY SQUAD! And... THREE LITTLE SURFER PIGS!!
STINKY SQUAD! And... THREE LITTLE SURFER PIGS!!

TWO GREAT DC GREEN BOOKS - ORDER NOW!!

Click 'Read More' to check out the covers and latest reviews!


Book One!

STINKY SQUAD is about a country called Oztrailer where everyone turns into brain-eating zombies. The nation's only hope is a bunch of loser teens with gross super-powers... Stinky Squad!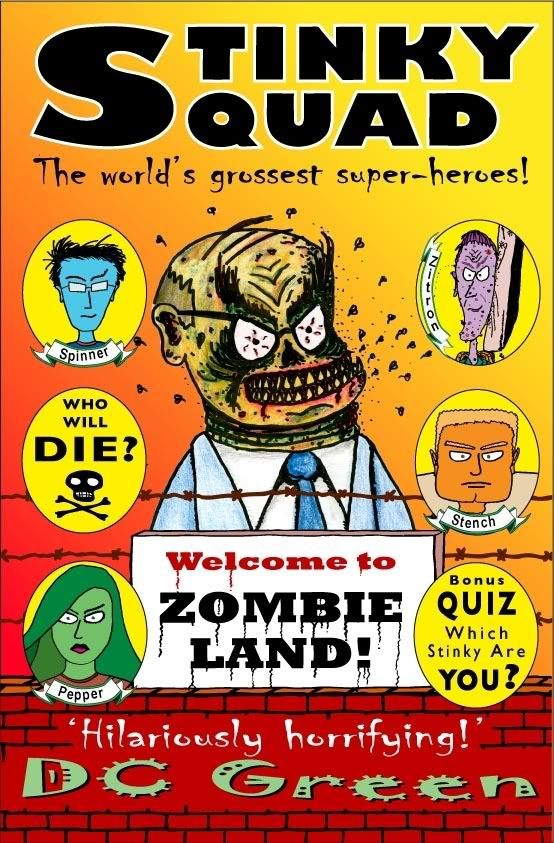 Stinky Squad is gross, funny, scary and ultra-fast paced: perfect for readers with strong stomachs aged between 10 and 110.

'Fantastic… a very exiting read for kids and a very, very funny book.' – HG Nelson.


'Stinky Squad is the best Australian children's book. Ever.'
– Stab magazine.

'One hell of a ride... A fart-fest with a surprisingly warm heart. Stench is an INSPIRED character.'
- Sally Odgers, children's author.

'Never have bodily fluids been described with such gusto. Harry Potter meets Shaun of the Dead.'
- Waves magazine.

'Stinky Squad will have people involuntarily twitching and retching, clenching buttock muscles and wincing. Brilliant!'
- Jensen Ruehle, Bookmark Australia.

'DC Green has keyed into what children love to read. This is a best seller... truly truly truly truly great!'
- Carol Roach, Storytime Tapestry.

'DC Green will be the Hans Christian Anderson of a whole new generation.'
- Jodi Flessberg Lily, Creative Writers Network moderator.

'This is the novel equivalent of a manga comic, a classic super hero tale on a global scale – albeit with a freaky twist. It's fast and furious and VERY funny.'
- Sandy Fussell, children's author.

'My son swallowed Stinky Squad down, belched and asked for more! He could be heard chuckling and occasionally laughing which is no small feat as he has his teeth fitted with the most excruciating braces. The only time he has not moaned at me about the "pain" has been when he was reading DC's book or sipping one of my special protein shakes. He didn't put it down once until it was all gone and I don't mean the shakes. '
- Maria Stepek Doherty, Storytime Tapestry Senior Writer.

'A slimy, festering send-up of the modern world. Great fun, and perfect for kids.'
- Tracks magazine.

Check out the official Stinky blog for the latest updates at: http://dcgreen.wordpress.com/



Book Two!

THREE LITTLE SURFER PIGS.


I performed an early version of this story at many of the 100+ schools I visited in 2006. The reaction to the three naughty pigs was so fantastic, it was obvious they were destined to score their own book.

And now they have: a brilliant picture book chocked with laughs, surfing action, surprises and amazing artwork by the mega-talented Simon McLean.

Three Little Surfer Pigs is the perfect book for all the family, covering ages 4 to 154, and above average pets.

10 % OF ALL SALES GO TO CANTEEN - the Australian organisation supporting young people living with cancer!

'A hilarious retelling of the classic fairytale.'
- AEU News.

'Evilly entertaining.... The rhyme is great fun!'
– Sally Odgers, Jack Russell, Dog Detective.

'A funny and enjoyable read.'
- Kid Zone.

'I loved the hidden jokes and all the surfy lingo!'
- Jackie Hosking, PIO reviewer.

'Funny, full of surf action, and with a great female surfing character, this is the sort of book I would have loved to have read when I was a grommet!'
- Pam Burridge, Australia's first women's world surfing champion.


Both books are published by my fantastic publisher, Barrel Books:
http://www.barrelbooks.com/

Barrel Books Shop:
http://barrelbooks.com/catalog/